Welcome to jellycast, the record smashing podcast people
What do we do?
We host your podcast, letting you publish and transmit audio files across the world via our service. We provide lightning fast hosting, excellent bandwidth and all the support you need to upload, publish and broadcast your own podcast. And all for as little as a one-off setup fee.
What are Podcasts?

Podcasts are audio or video files which are distributed over the Internet for download onto personal devices such as iPods, MP3 players and personal computers. Once downloaded by the user (via tools such as iTunes or directly onto an MP3 player) they can be listened to / viewed as many times as desired and new episodes downloaded when available. Podcasting is rapidly taking off as a great way to get your ideas, views and information out to a wider audience around the world.
Why record a podcast?
You're human. No doubt you have something to say. No doubt there are people across the planet who want to hear what you have to say. Never before has it been so easy to do so. There are plenty of practical examples of why people find podcasting is a useful means of expression. You don't have to be technically obsessed to create and publish a podcast, anyone can do it. Take a look at some podcasting stories for inspirational every-day examples.
Why use jellycast?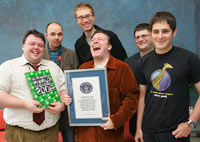 Our network won a Guinness World Record for podcasting the Ricky Gervais podcast. There can be no better place from which to transmit! jellycast is run by the award-winning Positive Internet Company, who have a decade's experience of giving popular media sites a home on the Internet. So your Podcast is in good hands! Our friendly web-based control panel makes getting your files on our system extremely simple and, most of the time, it'll cost you absolutely nothing beyond a small setup fee!
How much does it cost?
We charge a setup fee of £10. Why a setup fee? Well, this ensures that spammers and the like don't sign up to our system automatically and abuse it. On our first tier of hosting there are no further charges at all, it's completely free. You can sign up to higher tiers of paid-for hosting if and when your podcast becomes very popular, and receives many thousands of listeners per month.