The Positive Internet Company runs the jellycast service. We have a decade's experience of giving popular media sites a home on the Internet, including infrastructure for Sky TV, the Brit Awards and the British Film Institute. For this, we won the Best ISP/Internet Host at the prestigious Linux User and Developer Awards.
So we're good at hosting things on the Internet, including podcasts. But don't take our word for it alone: we and Ricky Gervais won a Guinness World Record for hosting his podcast, the most popular in the world. We ensured that over five million listeners received his transmission without any technical glitch.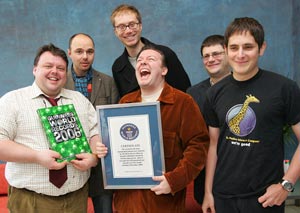 Left to right: Craig Glenday (GWR), Karl Pilkington, Stephen Merchant, Ricky Gervais, Jake Jellinek (Positive Internet), Nick Mailer (Positive Internet).
Now you can leverage this proven excellence in your podcasts. Here are some examples of how normal people have inspiring, every-day uses for podcasts. You too may have a story to tell, but worry about the technicalities of recording and uploading it to the world. Have no fear: our web-based control panel makes it easy, and our team can answer any technical question you might have. You get all this, for next to nothing in price - beyond a small setup fee, you will pay absolutely no ongoing charges until you decide your podcast has become popular enough to warrant them.
A radio receiver that barely picks up the signal can ruin even the most interesting of broadcasts. Similarly, a flaky, ill-equipped Internet host can frustrate the potential of potentially world-beating podcasts. Rest assured that you cannot get better than the jellycast infrastructure.